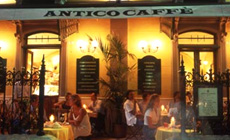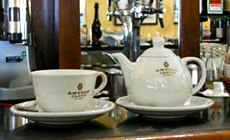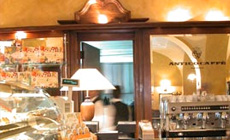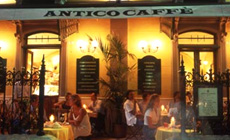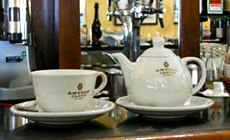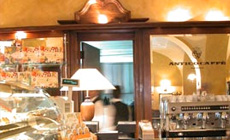 Location
Antico Caffè is located in the historical center of Cagliari, near the pedestrian streets. Its terrace overlooks to Piazza Costituzione, closer to the beautiful St. Remy Bastione, which offers a spectacular view of Gulf of Cagliari.

History
Everything began in 1838, when Lazzaro Canepa, immigrated from Lavagna, a village close to Genoa, opened a small meeting place that named after himself.
In 1855 the place changed name and layout becoming "Caffè Genovese", elegant meeting point for artists and the town bourgeois. The peak is reached by the Caffè at the beginning of the Neinhundred thanks to the various decorative details in Liberty style.

Dining Hall
In 1998 begins a second youth for the Caffè when the Ruggieri family, owner of the Caffè, decide to completely refurbish the historical building. The "Antico Caffè" discover its real character becoming again the heart of the town' social life. Today the Caffè is an institution for the citizens of Cagliari and it is also protected from the Ministry of the Cultural Assets.

Cuisine
Nowadays a refined patisserie together with handmade ice cream, crêpes, cocktails, wines and traditional Mediterranean food are always available at the Antico Caffè.
The "Antico Caffè" opens early in the morning as a dynamic breakfast and coffee bar, before lunch it becomes an elegant Bar where aperitifs and wines are served together with "stuzzichini" (buffet of finger foods). During lunch time the Caffè becomes a phrenetic Bistrot, beloved from Business men as a ideal meeting point for their business lunches as well as from tourists. During the afternoon the bar becomes a relaxed tea room while in the evening it becomes again the meeting point for intellectuals, artists, tourists…. that let themselves being enchanted from the soft music, candle lights and the slow roll by of the town right in front of their tables.
Mappa Restaurant Antico Caffe' 1855
Please select the points of interest you want to display on the map