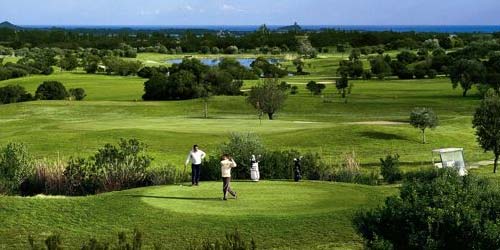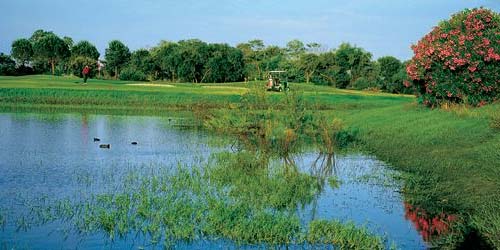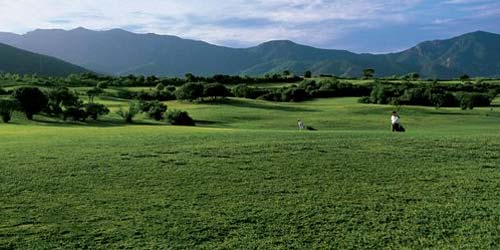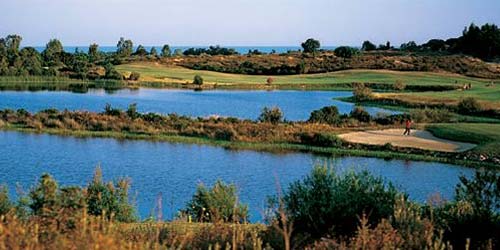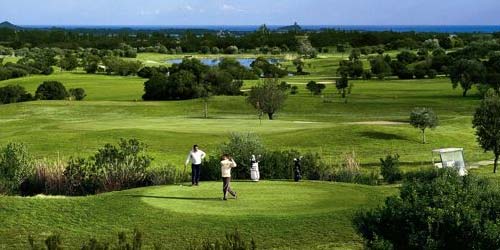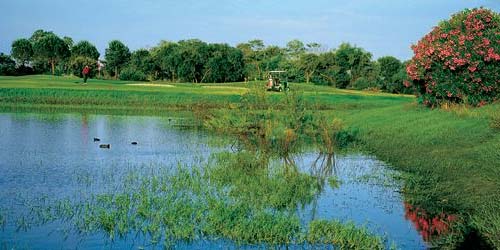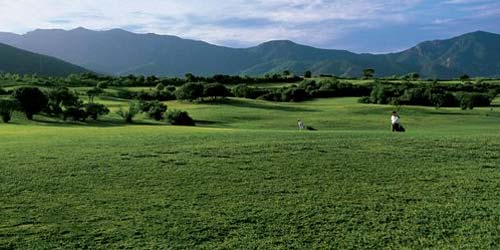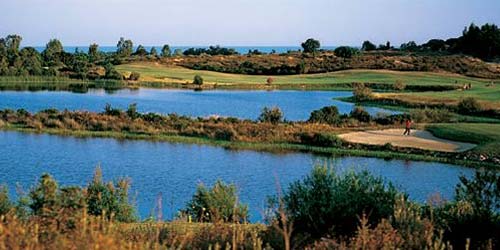 Location
The Is Molas Golf Club is located only 30 km away from Cagliari on the south western coast of Sardinia. This area has a unique micro-climate on the island, which is due to the mountains in the surroundings, which keep the cold northern wind away, thus enabling visitors to play golf here all year round.

This area borders Santa Margherita di Pula and Capo Teulada, which is one of the most fascinating parts of the Sardinian southern coast: beautiful beaches and bays of crystal-clear water create an enchanting atmosphere for those who love playing golf while enjoying the natural beauty of Sardinia.
Technical Details
Embedded in a striking landscape with the remains of the ancient Roman cityon which the tower of Nora stands out, The Is Molas Golf Club has a golf course which features one track of 27 holes: the first 18 holes, with par 72 and distributed over the total length of 6.383 m. have been designed by architects Cotton, Pennink & Partners according to the project by Piero Mancinell. The track has been inaugurated in 1975; the other 9 holes, par 36, 3.155 m, were designed by Franco Piras.

The track hosted the Italian International Open in the years 1976, 1982, 2000 and 2001, hosting some of the most famous names of the international ranking, such as Nick Faldo, Sam Torrance, Ian Woosnam together with the Italians Costantino Rocca and Baldovino Dassù, who won the first Open in '76.

All the greatest champions of this sport have enjoyed the Is Molas Golf Club track for the Mediterranian macchia which surrounds it, and they still regard it as being one of the most stimulating and technically challenging golf courts in the Mediterranean area.
Golf track 18 holes, par 72, m 6383
Golf track 9 holes, par 36, m 3155
Driving range
Golf Caddie rental daily/weekly
Golf bag rental normal/professional

orientation prices "Green Fees"

Green fee 18-hole
Eur 80,00 weekly days
Eur 90,00 Holidays, Saturday and Sunday
Eur 100,00 from 01.08 to 31.08

Eur 40,00 Rental of a golf cart 18 holes
Eur 50,00 Rental of a golf cart 18 holes in August
Eur 35,00 Rental of a Standard Golf Bag fully equipped 18 holes
Eur 8,00 Rental of a manual trolley per day

Green fee 9-hole
Eur 45,00 weekly days
Eur 50,00 Holidays, Saturday and Sunday
Eur 30,00 Golf Cart 9-hole
Eur 40,00 Golf Cart 9-hole in August
Eur 25,00 Rental of a Standard Golf Bag fully equipped
Eur 8,00 Rental of a manual trolley per day

Driving range Eur 15,00
Driving range with equipment Eur 25,00
ChamingSardinia.com suggests all golf lovers to spend their holidays at the Hotel Is Molas Golf Hotel, open all year round. At a few minutes drive, golfers can choose also among other charming 4 star hotels such as Hotel Aquadulci in Chia, the Villa del Borgo Relais or Nora Club Hotel.

Guests of the Is Molas Golf Hotel receive special golf rates at Is Molas Golf Club.

<< Golf Sardinia
Mappa Golf Is Molas Golf Club
Please select the points of interest you want to display on the map