Amazing Sardinia

Departure in the morning from Olbia in direction to Nuoro which is regarded as the heart of Sardinia because traditions are very severely respected and maintained. Here was born Grazia Deledda, an internationally renowned writer and Nobel Prize for literature in 1926.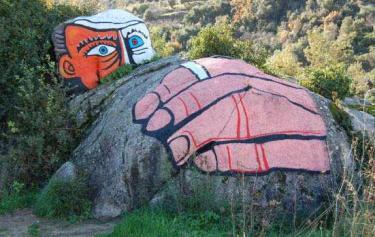 In Nuoro we will visit one of the most important museums, the Museum of Life and Sardinian Popular traditions. Here every feature of the traditional material culture are represented (dresses, jewels, manufactured products of cloth and wood, weapons, masks, bread, tools for house and work, etc.). There is also a section dedicated to the attentive representation of immaterial values (popular religiousness, feasts, superstition, traditional carnival, music, chant and dance, etc.). The collection counts about 8000 finds dating back to the end of the nineteenth century and the first fifty years of the twentieth century.

After the visit to the museum, we continue our tour into the interior of the area to the town of Orgosolo, symbol of the Barbagia culture andfamous for its wall-paintings (murales) on houses and buildings. They are expression of the political discontent of the local people and a silent protest against the government started in the end of the 60's. In Orgosolo we will have a stop for our lunch with the shepherds. In the middle of old oak trees a traditional, rustic lunch will be served: Carasau bread, Sardinian sausage, olives, cheese, roasted lamb and pork on the spit together with the typical home-made red wine, the Cannonau, then the typical Sardinian cookies.

Return to our hotel by bus in the afternoon.
Book now