Province of Sassari
Holidays in the Province of Sassari –
Alghero
, sea, history and natural beauties
Until 2005, the date of the creation of the
new provinces of Sardinia
, (which from four became eight), the
province of Sassari
represented the largest area of Sardinia, and was the largest province of Italy. With the establishment of the new provinces, the territory has lost 24 municipalities, but
Sassari
is still the fifth Italian town
by extension and the second most populous city after
Cagliari
in Sardinia.
Surroundings and nature
Due to the vastness of its territory, the
environmental variety is really
diverse;
the territory of
Sassari
province, for example, includes
Lake Baratz
, the only natural lake in Sardinia, the
Nurra
, the second plain after
Campidano
, and the beautiful
Asinara Island
, with a unique history behind it,
which since 1998 became a national park
.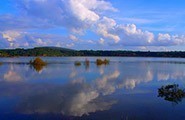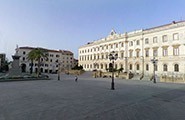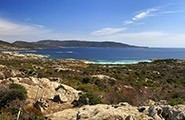 Tourism in Alghero
The town of
Alghero
is definitely
one of the favourite destinations for holidays
in northern Sardinia.
Those who choose a hotel or resort for their holidays in
Alghero
have absolutely to visit the
natural and archaeological beauties
of the zone, as the spectacular
caves of Neptune
, in the territory of Capo Caccia, or the Necropolis of Anghelu Ruju, prenuragic archaeological site near the city.
The coast of
Alghero
is dotted with a succession of beautiful
coves
,
beaches
and
headlands
; among these, the
Bombarde
and Mugoni beach are among the most popular.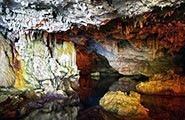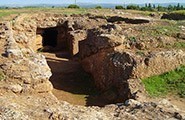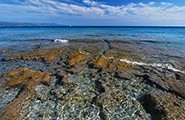 To fully enjoy your holiday in
Alghero
, and
to get in touch with local traditions,
we suggest a visit to the Archaeological and Historical Ethnographic Museum Sella&Mosca. One of the most famous
wine farms
of Sardinia, ready to welcome you and to reveal its secrets.
Holidays in Sassari, Castelsardo and surroundings
Moving towards
Sassari
, we find, in the
area of Stintino
, a beach that does not fear comparisons with tropical waters: it is
La Pelosa beach
, famous for the transparency of its waters.
For those who wish to penetrate the territory and to discover
little-frequented seas
, we suggest a visit to
Rena Majori della Nurra
in the territory of
Sassari
.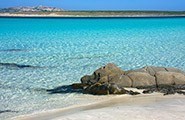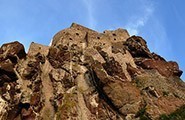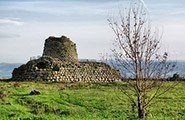 If you choose a hotel in the territory of Sassari and
Alghero
, we recommend you
a stay in Castelsardo
, charming town dominated by the
Castle of the Doria
, not far from the capital. Leaving the city, you can not miss a stop at the picturesque
Elephant Rock
.
Who likes to know more about the historical evidence that abound in Sardinia, which is a very ancient land, can visit the Nuraghe Santu Antine in the territory of
Torralba
, which is less than 40 km from the town of
Sassari
.