Sassari Sight

Anghelur Ruju Necropolis (Alghero)
It is one of the largest necropolis in Sardinia. Dating back to the thirteenth century BC, consists of 38 domus de Janas. It's about 10 km from Alghero.
Asinara National Park
Once called the Devil's Island because of its history, that first saw it as health quarantine station, then prison camp during World War I and finally maximum-security prison in the 70s, which hosted among others the mafia boss Toto Riina. This isolation, which lasted from 1885 to 1997, has preserved the natural beauty of the island. Now it has become a Natural Park, preserving it from the ravages of mass tourism. Nowadays, Asinara houses some rare animal species like the peregrine falcon, the griffon and the white donkey, native of the island.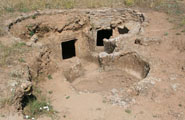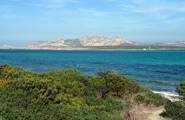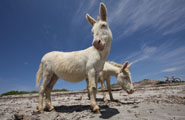 Doria Castle and Elephant Rock
Ancient medieval village, very attractive for its scenic location and the narrow streets of its Old Town, Castelsardo is dominated by the Castle of the Doria, which is the nucleus of the original fortified town. Moving from Castelsardo direction Sedini, you will meet the Elephant Rock, a nice Domus de Janas shaped by the wind, that took the form of an elephant.
Nuraghe Santu Antine
It's one of the biggest and best preserved Nuraghe of the island. Important evidence of proto-sardinian architecture, Nuraghe Santu Antine (St. Constantine) is surrounded by a hut village, used at later dates.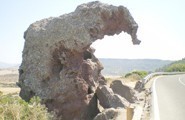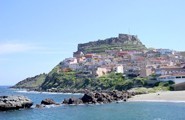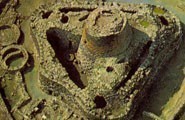 Neptune's Caves
Accessible by sea or through the famous Escala del Cabirol (Roe deer stairs), which is composed of 656 steps, it refunds the effort by giving unique and spectacular views. The cave area open to public is about 2500 meters long. A wonder of nature, not to miss, exciting for its beauty.
Sella e Mosca Museum
From June to October, the largest Sardinian winery Sella e Mosca opens its doors, offering a tour of the cellars and a wine tasting accompanied by local products and, in the end, a visit to the museum, which is divided into two sections. The first one, archaeological, presents the Necropolis of Anghelu Ruju, which is inside the estate; and the second one is dedicated to the history of the Company.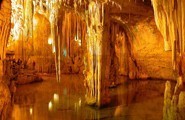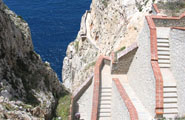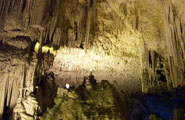 Alghero
Barceloneta
, the small Barcelona: so is named
Alghero
, main touristic centre in the north-western
Sardinian
coast.
Alghero
takes part to the Coral Coast, a coastal area well-known for the presence of the prestigious red coral, already used by the Romans to create fine ornaments and refined jewels. We've selected for you the best
hotels in Alghero
: browse now our exclusive pages and find your hotel!