Su Nuraxi
The archaeological site "Su Nuraxi" (Sardinian term for "The Nuraghe") lies at the foot of the Parco della Giara, near Barumini. Nuraghes are the main type of megalithic edifice found in Sardinia, and the use of these beehive-like buildings still remains unknown. Most archaeologists assume they were used as religious temples, meeting halls, or military strongholds.
> check opening hours, prices and tourist information
Built somewhere around the twelfth century BC, Su Nuraxi is located along the road that leads from Barumini to Tuili. It was declared World Heritage by UNESCO (http://whc.unesco.org/) in 1997, and it is certainly the most important monument of the old civilization in Sardinia.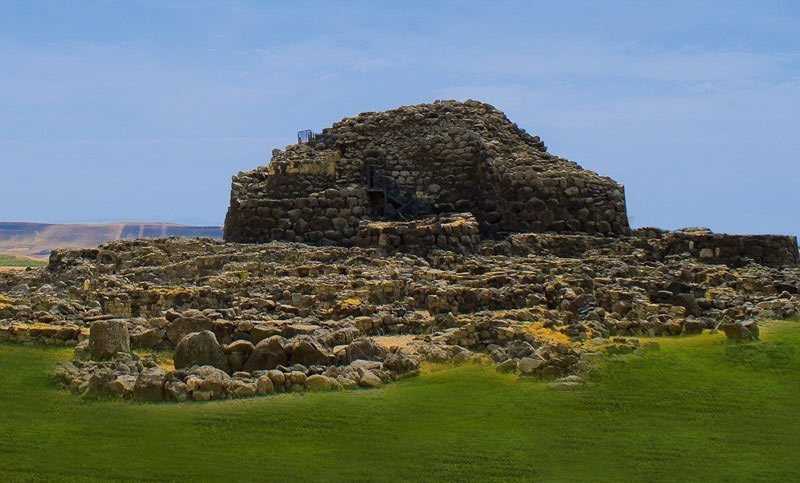 The importance of the Nuraghe of Barumini, which stands on a small plateau at a level of about 230 metres, is shown by its complexity. Su Nuraxi has an excellent state of preservation, especially the proximity of the huge fortress, which consists of several towers. A central tower is surrounded by a rampart with four towers, which in turn are surrounded by seven towers in a hexagonal. The vast, labyrinthine village with narrow lanes and houses, wells and meeting huts, quietly tells a mysterious story of 3500 years ago.
The area is open for visitors, and you can see the fortress, while passing in narrow tunnels, which were carved from the walls. The oldest part of Su Nuraxi, the truncated conical central tower, was originally more than 19 meters high, and consists of three overlapping Tholos (typical Nuraghe rooms).

After analyzing an olive tree piece using Carbon-14 dating method, which was found wedged between the large boulders of basalt that form the structure, it shows that this part of Su Nuraxi dates back to 1478 BC.The four towers surrounding the central bastion, placed in the four cardinal points and originally built on two floors, were presumably built in the thirteenth century BC as well. About two centuries later, the structure was reinforced by adding three extra metres of basalt, making it even harder to enter for unwanted guests.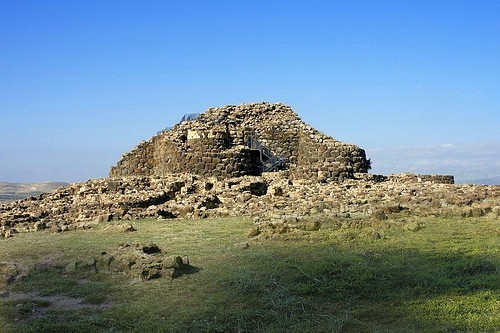 To penetrate the Nuraghe of Barumini, enemies had to reach a small entrance located about 7 meters high, making "Su Nuraxi" in the eyes of the enemy an untakeable fortress. Even today, after the excavations carried out by the archaeologist Giovanni Lilliu in the 50s, the only entrance to the fortress is the "sky door". Lilliu's archaeological excavations proved that Su Nuraxi was being inhabited until the third century A.C..


Besides Su Nuraxi, there are still over 7,000 nuraghes intact on Sardinia (and only on Sardinia!), of which the most well known are;
Nuraghe Santu Antine (Torralba)
Nuraghe Losa (Abbasanta)
Nuraghe Orrubiu (Orroli)
Nuraghe Palmavera (Alghero)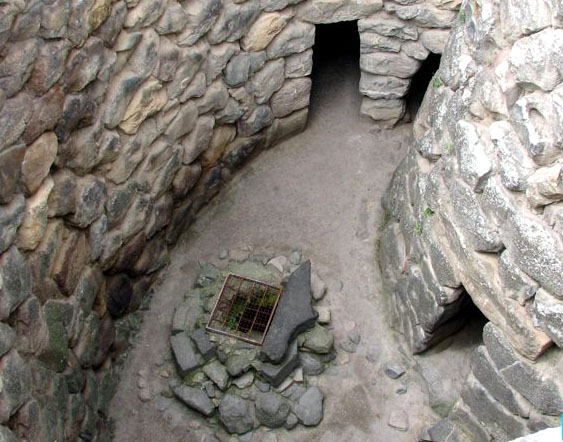 To visit the Nuraghe of Barumini, a tour is obligatory, but there are departures every half hour. The opening hours vary from period to period, and reservation is recommended for larger groups.
Cost of your visit:
The ticket includes guide services
€ 12.00 (full price)
€ 9.00 (reduced for young people between 13 – 17 and groups of 20 persons)
€ 7.00 (reduced for kids between 7 – 12)
No ticket required: kids up to 6 years, military personnel, persons with disabilities and their carers, teacher accompanying at least 15 students.

Duration of the guided tour: about 50 minutes
Opening hours
January-February 9am/5pm (last visit 4pm)
March 9am/5.30pm (last visit 4.30pm)
April 9am/7.30pm (last visit 6.30pm)
May-June 9am/8pm (last visit 7pm)
July 9am/8.30pm (last visit 7.30pm)
August 9am/8pm (last visit 7pm)
September 9am/7.30pm (last visit 6.30pm)
October 9am/6.30pm (last visit 5.30pm)
November-December 9am/5pm (last visit 4pm)
When local events such as the 'Coloured Nights' are held, guided visits are also available at night.

Suggestions:
The visit takes place in the open – we suggest you wear a hat and take along water and sun cream. In the cold season, take a waterproof jacket and strong shoes if it rains.

Nuraghes in the area
Other important nuraghes, such as 'Su Mulinu' of Villanovafranca and its archaeological museum, are located in the neighbourhood of Barumini. Less then 20 Km from Barumini, in Villanovaforru area, is the important territorial Museum Sa Corona Arrubia.
More photos of Su Nuraxi di Barumini can be found at http://www.neroargento.com/page_galle/nuraxi_gallery.htm .