Province of Oristano
Oristano
, in Sardinian
"Aristanis"
,
between the sea and ponds
that abound in the area, became a province only in 1974, but the story of its territory is very old and dates back to the period in which Sardinia was divided in
Giudicati
(Judges), between the ninth and the fifteenth century.
It was the glorious capital of the
Giudicato of Arborea
and the birthplace of
Eleonora of Arborea
, who contributed to the promulgation of the very important
Carta de Logu
. This represented
a milestone in Europe
, enshrining the implementation of the rule of law, in which all citizens were obliged to respect the law, and had the chance to know and understand the consequences when they were not respected.
Oristano is the city of
vernaccia
, a wine produced by a particular local variety whose procedures and rules of winemaking were laid down by the same Carta de Logu.
Part of the province of Oristano is the village of
Baradili
, the smallest town of the island, which counts only 94 inhabitants.
Beaches and Sea in Oristano
The beaches of the
province of Oristano
are in many ways still wild and pristine, they are far from mass tourism that you can find in other places on the island. The coast is less tourist exploited but nonetheless very beautiful: while on holiday in Oristano you'll be spoiled for choice, and you can choose to visit
a different beach every day
, thanks to the ease of connections: the beach of the grains of rice Is Arutas, Mari Ermì, Putzu Idu, S'Archittu, or the romantic small
Beach of San Giovanni di Sinis
, in the homonym peninsula, will surprise you for their simple beauty.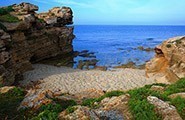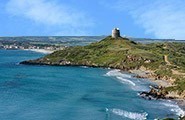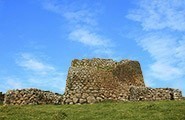 What to see
The
Sinai Peninsula
is known not only for the spectacular sea that surrounds it, but also for the presence of the city of
Tharros
, very important archaeological site
of Phoenician origin
.
Definitely worth visiting are the Museum and the necropolis of
Mont'e Prama Giants, towering sculptures dating back to the nuragic period, representatives archers, warriors and pugilists
.
To learn more about the history of Sardinia, we recommend visiting one of the many Nuraghe of the isle; there are
more than 7000
, an average of one every 3 square km. In the province of Oristano we suggest you visit the
Nuraghe Losa
, one of the most important and best preserved of the island.
To get a broader view of the archaeological remains of the city of Tharros and nuraghes of the area, we suggest you visit the museum
Antiquarium Arborense
, located in Oristano.