Weddings in Sardinia
Sardinia
offers couples a romantic and magic atmosphere. Because of its insular nature, Sardinia still retains charmingly rural landscapes, rites and traditions from ancient time. Essentially,
celebrating your wedding
on genuine warm hospitality, mild weather,
excellent cuisine
and
stunning locations
means that you will have lifelong
memories to treasure
.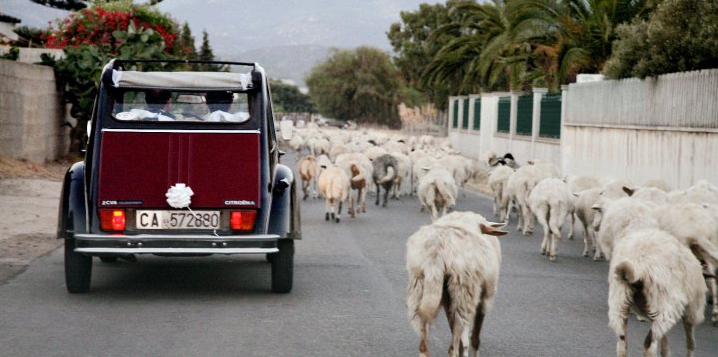 The Island is capable of surprising you with its glamour coast in
Costa Smeralda
or the
bucolic villages
in the center of Sardinia. The common point is that
wedding in Sardinia
means perpetuate centuries-old
wedding
rites, both civil and religious. Among a wide set of breathtaking
wedding locations
,
Faro di Capo Spartivento
, a Lighthouse in the
Bay of Chia
, may be a great example. It accommodates not only young couple on their
honeymoon
, but also guests for wedding lunches and dinners.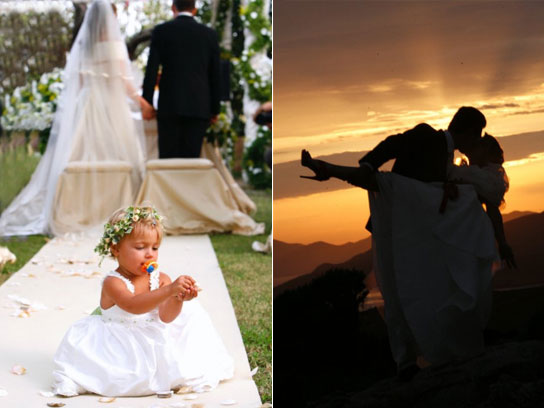 Wedding
is a wonderful opportunity for Sardinians to showcase their culture and traditions. One of the most common deals with "
Sa Razzia"
. A dish of rice, wheat, salt, coins and rose petals is broken close to bride and bridegroom home's door. Cereals are symbols of abundance, wisdom, wealth and love, the best wishes for prosperity and a long and
happy married life
.
The organization of the wedding banquet is never left to chance. The meal following Sardinian traditions, is rich in flavour and based on simple home grown ingredients.
Many traditional dishes reflect the farming and fishing culture. "
Su Coccoi"
, a special shape bread, is a hallmark of Sardinian weddings, common around the coast.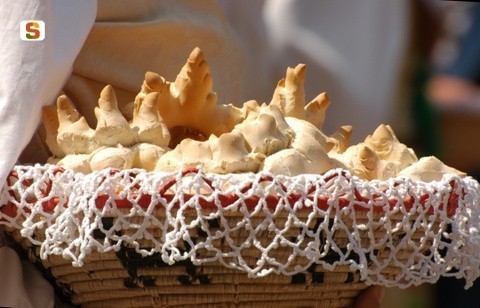 Every year, one of the worthiest weddings to receive attention is that of "
Sa coja antiga"
also called "
Selargino marriage
". Since 1962, on the second Sunday of September, in
Selargius,
a few miles away from
Cagliari
, a traditional wedding rite is performed .
The
ancient wedding
, actually a
real show
in which the whole village takes part, is full of music, colours and stunning traditional costumes. Romance and an
historic elegance
play with wedding ring ceremony. Two couples, one local and one foreign, exchange their vows and write a message to their future children on a pergamena, called "
Promisas de is Istrangius
" in Sardinian language. It will be kept safe by the
Confraternity of Madonna del Rosari
o and given to the children 25 years later. The
promisas
has been signed by Europeans, Japanese, American, Senegalese.
Every year couples get married following the old traditions, wearing the traditional Sardinian wedding gown and the typical filigree jewelleries. At the end of the ceremony they are chained together to symbolise the union of their destinies. On the official
Selargius city web
site is the on line detailed program of the day, the timetable and the addresses.
The wedding is an event that happens once in a lifetime, that is why it should be memorable and unrepeatable.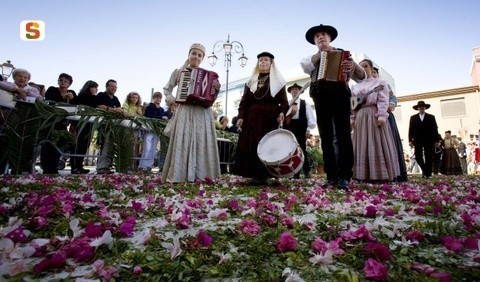 Useful information
In Sardinia you can plan Civil and Catholic ceremonies, Catholic ceremonies with civil effect, Protestant blessing and ceremonies with civil effect and Jewish ceremonies. You can also plan symbolic ceremonies in many wonderful locations. Whereas Catholic ceremony can only be performed in a Church and the civil ceremony will be performed by the Mayor or functionary in a municipality.
Weddings celebrated in Italy are recognized in other countries. Nevertheless there is some paperwork you will need to get in your country and some paperwork needs to be done in Italy. We suggest to plan your ceremony at least 6 months in advance to make sure that all the papers are in order.
For necessary information search for your Foreign Embassies in Italy and ask about the exact documents required.
To plan your wedding in Sardinia, from assistance and accommodation to wedding cars, dinners and flowers please contact F.A. Travel, your DMC for Special Events in Sardinia.
Pictures references
www.sardegnadigitalibrary.it
www.aleseales.it