Beaches in Olbia, Costa Smeralda and in the surrounding areas
The coastal area running from Budoni, a locality to the south of Olbia as far as Badesi offers a great variety of beaches. Consult the guide of CharmingSardinia and head for the most beautiful places.

Cala Corsara
The Maddalena Archipelago, north-east of Sardinia, is dotted with many beaches and coves that really worth a visit. One of the best, Cala Corsara, located south of Spargi Island and reachable only by sea, is definetely one of the most spectacular.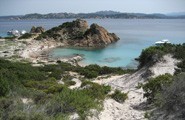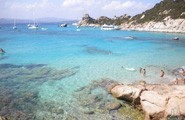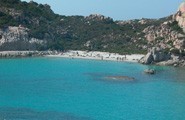 Capo TestaCapo Testa
is a
granite promontory overlooking the sea
, approximately 3 km from
Santa Teresa di Gallura
. White sand beaches and crystal clear waters, surrounded by
spectacular cliffs
, shaped by the wind and the sea.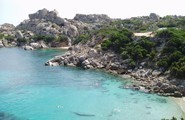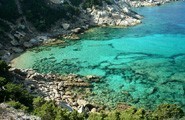 Beach del Principe (of the Prince)
Apparently it takes its name from the preference that the
Prince Aga Khan,
creator and founder of the
Costa Smeralda
in the '60s,
would have given to it.

Characterized by a Caribbean color sea and a sandy beach with few rocks, thanks to the shallow water is also suitable for children. Situated near Arzachena in the Romazzino locality.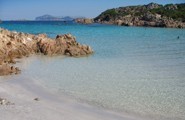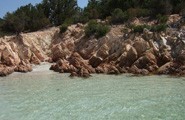 Cala Brandinchi beach
Nicknamed
Tahiti
because of the
Caribbean colors of the sea
, it's surrounded by dunes and pine forests. Itìs very popular during the summer season.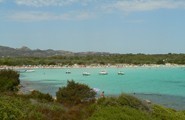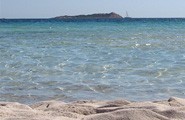 Cala Coticcio
Situated on the Island of La Maddalena, it can be reached by a walk 30-40 minute walk along a well-signed pathway. Ideal for something adventurous – remember it's better to set off before 11. A savage context with waters teeming with fish.

Spiaggia di Talmone
Situated 15 minutes walk from the Residence Costa Serena of Palau, it's not too crowded and it is marked by small stretches of sand and large polished rocks. The seabed is rich in caves, holes and a great variety of sea and plant life.

Costa Paradiso
Just a few km from the tourist port of Isola Rossa – ideal for those of you who prefer rocks. Small sandy beaches alternate with great jagged rocks.

Spiaggia Capriccioli
This beach is in the locality of Arzachena and has small stretches of sand surrounded by yellowish and grey round granite rocks. The water has several different tones of colour – blue, green, light blue and cobalt.

La Cinta
Well equipped with Lidos offering sun umbrellas and sun beds, this beach is in the locality of San Teodoro. Ideal for families with kids, large sandy stretches and shallow waters.

Beach Lu Litarroni
Situated at Aglientu and usually not too crowded. Ideal for the high season. There is also a dog-friendly area.

The list of the 10 best beaches:
Cala Corsara, Spargi
Spiaggia di Cala Coticcio, La Maddalena
Spiaggia di Talmone, Palau
Spiaggia del Principe, Arzachena
Capo Testa, Santa Teresa Gallura
Costa Paradiso, Costa Paradiso
Spiaggia di Lu Impostu, San Teodoro
Spiaggia Capriccioli, Arzachena
La Cinta, San Teodoro
Spiaggia Lu Litarroni, Aglientu