Is Arutas beach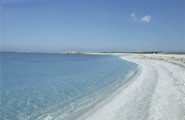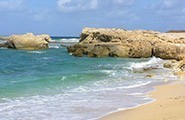 Is Arutas beach stretches for several kilometers, it has a clear sea which colors are between green and blue. It is known as the beach of the grains of rice, being composed of small grains of quartz, which shades range from pink, to green, to pure white.
Is Arutas, as well as the nearby beaches of Mari Ermì and Maimoni, differ from the other coasts of Sardinia, because composed of porphyritic granite instead of the common calcareous rock. The seabed consists of colourful quartz grains which are the result of a long chemical evolution and atmospheric processing. This corner of Sardinia is unique and wild. It provides the basic services, but it is a destination far from the mass tourism. All these aspects make the beach of Is Arutas even more fascinating.



Its is also considered a perfect spot for surfers also in the winter months because of the deep shore seabed. This area is swept by strong winds so we suggest you check the weather forecasts if you're looking for a sheltered place. It is not unusual to see dogs, although they are not allowed by law. It is easily reachable from the main touristic centres of Sardinia and, on the way that brings you to Is Arutas, there are other interesting places, first of all, the archaeological site of Tharros.

This amazing coastline is located in the province of Oristano, specifically, in the protected area of Sinis. The peninsula of Sinis is set in the midwest of Sardinia in the territory of Cabras. It is about an hour from Cagliari and about two from the ports and airports of Porto Torres, Alghero and Olbia.
How to reach Is Arutas
By car drop by the village of San Salvatore which has a pay-parking area, a kiosk and a camping area.
Attractions in the area
The area surrounding Is Arutas offers a host of possibilities for excursions on foot and cultural trips: from the great wetland area of where the pink flamingos nest to the ruins of the ancient Phoenician city of Tharros. In the direction of Oristano, on the other hand, visitors will find the archaeological area of Santa Cristina, consisting of a nuraghic complex with a sacred well that can be visited.