Nuragic Complex Su Nuraxi of Barumini
Departure both from Villasimius and S. Margherita di Pula
After the departure from our hotel we drive through a very fertile area of south Sardinia, the Campidano. Cereals, artichokes and wine camps accompany us until we reach the station of Senorbì from where we take the "little green train" of the Sardinian railways, a panoramic train with which we head for Mandas (about 30 minutes, ticket included).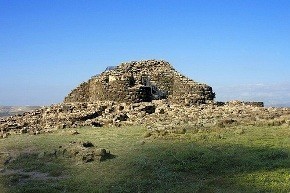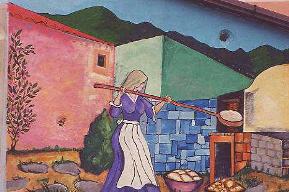 Then we continue by bus to the village
Barumini
and not far from it the famous Nuragic complex
"Su Nuraxi"
is situated. Thanks to its gracious and well-kept architecture this building can be considered as one of the most important testimonies of the Nuraghe culture which is unique in Sardinia and had its "high-period"
about 3.500 years ago
. It consists of a central tower (1500 B.C.) which is surrounded by four more towers.

Around this kind of "fortress" the ruins of the ancient village can be seen, with the cult-places, meeting places and housings.
After the guided visit of the ancient building we will have a tasting of Sardinian specialities for lunch in a typical restaurant (not included): Sardinian raw ham, salami, cheese, ricotta with honey, olives, brad specialities: pane civraxiu, pane carasau, Sardinian sweets, water, wine, p.p. 12 €.
Then we continue to the high-plateau of the "Giara di Gesturi" with its special plants and scents but most admirable are the famous wild horses, the "cavallini della Giara" (entrance not included).
Returning to Cagliari we pass by the village Villamar which is famous for its wall paintings the"murales".
Book now