Island of S. Pietro and Carloforte

From our hotels we reach Calasetta from where we take the ferry to the island of San Pietro. The path along the coast allows us contemplation and photography of striking aquatic scenery. We reach the volcanic Island of San Pietro at about mid-day: 51 kms of trachyt rocks and grey tuff where predators, rare sea crows and seagulls live undisturbed.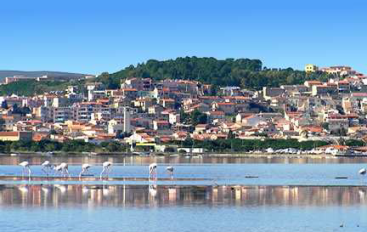 On this Island, fragrant with Aleppo pines, the sea toyed with the coasts creating caves and digging deep inlets. Here lies sweet and enchanting
Carloforte
, a picturesque city with neat and silent paths. Carloforte
was founded by a colony of Ligurian fishers
coming from the Isle of Tabarka in Tunisia. The Ligurian origin of its inhabitants can be found in the Genovese dialect dating back to 200 years ago and in the streets of the city centre. We will have short time to sightsee, walk on the "carrugi" (city centre's paths) or climbing up the city through striking arches and ladders. Lunch is free but we suggest to try traditional meals of fish and delicious cous-cous.
The trip will end with the tour of the Island, including a visit to the lighthouse and to the "tonnara" (old tuna fishing station).

Jeep Tour including driver, lunch excluded. Minimum participants: 6 adult peoples per jeep.
Please be informed that driving through the Nature Parks there are no toilets or gastronomic structures.
Generally the driver speaks English or French and knows the area and the natural sites very well. However, we would like to point out that this is not an excursion with cultural emphasis.