Sardinia Food and Wine
Food in Sardinia – Family and Tradition
"Eh, chi non m'as postu frucchitta!"
Or, as a great-aunt said once, scolded during a Sunday lunch in Cagliari since she was not touching her typical Sardinia food, "Why? You didn't give me the fork!". Once you're at the table in Sardinia, eating is a must!

Eating, in Sardinia, means family, tradition and plates of typical Sardinian cuisine, much like in the rest of central and southern Italy, a reason to pass time with your dear ones, to laugh and tell the last news, sometimes even an occasion to discuss and argue in pure Italian style.

Families usually gather at the grandparents' houses on Sunday, around noon, and start with a feast lasting at least four hours, with mixed appetizers, first and second courses, side dishes, vegetables, cheese, cakes and coffee. During lunch, you can't go without a local Sardinian wine and to finish a good myrtle, limoncello o fil'e ferru… for digestion, of course.
Discover Sardinia through its food traditions: Hotel Su Gologone (Oliena), Antica Dimora del Gruccione (Santu Lussurgiu), Hotel Su Lithu (Bitti)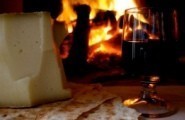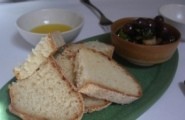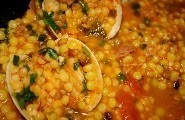 Tradition
Typical Sardinian cuisine tradition boasts very ancient roots, at first agro-pastoral, that slowly expanded acquiring in time also recipes based on fish and other seafood, typical of fishermen. In fact, Sardinia, in ancient times, was inhabited mainly in the woods of the inland, while coasts, partly for punic/phoenician invasion, partly for the less than savory air, were almost desert.

Shepherds, during the long periods when they were herding their stocks, needed simple and nourishing food (accompanied with some house wine), easy to carry and resistant to both high and low temperatures. For this reason Sardinia has such a wide selection of preserved meats and cheese both tasty and aged, but more than anything it should be mentioned the bread "carasu", delicious wafers of thin light bread, very easy to carry.

Typical dishes
An economic dish of the popular tradition, vey practical and using carasau is the "Pani Frattau", in which five or six wafers of carasau are sandwiched with tomato sauce, to be sautéed on the pan with a nice poached egg above. Practical and delicious!
Discover Sardinia through its food traditions: Hotel Su Gologone (Oliena), Antica Dimora del Gruccione (Santu Lussurgiu), Hotel Su Lithu (Bitti)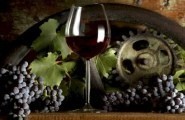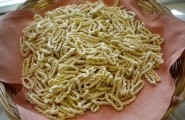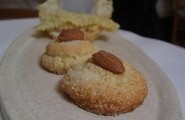 The worldwide famous "maialetto" or roasted piglet is our Sardinian cuisine's strength and pride, but it is safer to have a fireplace at home if you wish to roast it without being criticized by the rest of your family; there is always someone who knows better than you!

Dishes vary from area to area, sharing only the Sardinian identity; the zuppa gallurese, is a soup, only by the name actually, typical from Gallura, Sassari and Olbia's area; the fregola, small balls of handmade pasta is dressed with seafood in the Campidano; the particular Lorighittas come from Oristano, a special pasta made out of two thin pasta wires wound together and served with sausage and tomato sauce; the panadas, oven baked pies of meat, fish or vegetables, can be found all over Sardinia with different fillings.
At the end of your meal you can choose from a host of sweets and pastries such as Seadas, a fritter filled with fresh cheese and honey, the Acciuleddi, 'plaited' sweets made by the grandmothers and the Cocciuleddi, small pastries flavoured with mandarin peel, almonds, chopped nuts and cinnamon.
You can taste Sardinian specialties in the best restaurants and farmhouses. If you are a food and wine lover, we suggest you to check our selection of gourmet Hotels in Sardinia.

Local wines
The cultivation of vineyards in Sardinia takes place over many different terroirs, from the fertile plains near the sea to the rocky hills of Jerzu and Tertenia not forgetting the sandy soils of Oliena and Dorgali. Among the best-known wines we should like to mention Cannonau, a red with high alcohol content bottled in wood, Nuragus, dry and with a slightly acid note, Carignano, a red with a dry lingering flavour and Malvasia, a sweet wine ideal to accompany desserts.
Other wines produced locally are Monica, Vermentino, Vernaccia, Nasco and Moscato.
Discover Sardinia through its food traditions: Hotel Su Gologone (Oliena), Antica Dimora del Gruccione (Santu Lussurgiu),Hotel Su Lithu (Bitti)